"The nice thing about growing old is,
I can do whatever I want.
I can write, direct, and act occasionally. Right now, I'm working on a screenplay,
plus I have a wonderful idea for a television pilot. I'm in a very creative mode!"
Marvin Kaplan's A Good House for a Killing Receives Rave Review
14-Jan-2012
Created by Marvin Kaplan,
A Good House for a Killing,
debuted at the California Artists Radio Theatre in July 2011. Kaplan's production received a rave review by
The Tolucan Times'
Pat Taylor:
"This play, A Good House for a Killing, was written by the beloved and quirky Marvin Kaplan (book and lyrics), who also hilariously appears here as a German personal assistant to a 'blowhard' Shakespearian actor. (Music by Scott Martin & Richard Loring.) At 84 years young, Marv's creativity and zest for life is remarkable! … John R. Lee is wonderful as the brash and boozing thespian, who rubs everyone the wrong way. There are those who plot to end his miserable life, but eventually he redeems himself. In a highlight moment, his song performance on 'Give Me Tonight' was brilliantly moving! A talented cast of 15 notable working actors plays these 'tongue-in-cheek' roles with pizzazz in this Wild West, barroom musical comedy! … A fun-loving concept in theatrical offerings! Kudos to all involved!"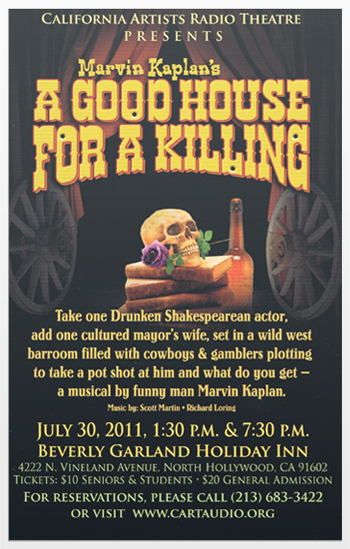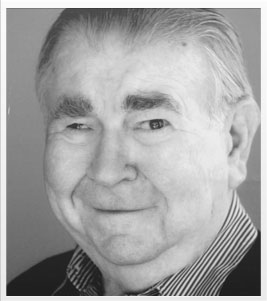 Show Your Support For:

Buy Marvin's "Grey Comedy" film:
Watch Out For Slick

---
Show Your Appreciation
Memorial gifts for Marvin can be sent to the Kaplan-Loring Foundation, designed to educate aspiring actors and writers in the field of comedy. 1621 Oval Circle, Las Vegas NV 89117.
---
Donate to the Kaplan - Loring
Foundation
If you would like to make a donation in honor of someone please send us a message after your donation is complete.